Misdemeanor Charges Are No Joke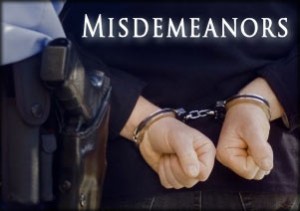 Misdemeanor charges can result in arrest and detainment and up to one year in jail. If not handled properly in a timely manner they can lead to a bench warrant that can result in an arrest during your next traffic stop, at a DUI checkpoint or in any other circumstances during which you come in to contact with a law enforcement officer. They may come looking for you at home or at work as well.
Your best defense against any criminal charge starts well before your court date. Resist the temptation to blow off a charge as "not serious" and let a Stillwater misdemeanor criminal defense attorney from the Wirth Law Office in Payne County help you find the best strategy to manage the consequences of the charge and find the path back to no longer having the threat of prosecution hanging over your head.
Police and prosecutors have the resources and the power to make your life difficult with misdemeanor charges. Don't face the possibility of jail, fines and excessive court fees without the help of an expert advocate. There's no reason to face the full resources of county prosecutors on your own.
You're just a quick free phone call away from getting your questions answered about an Oklahoma misdemeanor charge. Call the dedicated Stillwater criminal defense attorney at Wirth Law Office today, at (405) 673-1600. 
Misdemeanor Defense Representation in Stillwater
Contact us about misdemeanor representation ff you've been charged with one of the following or any other misdemeanor in Payne County Oklahoma:
Animal Complaints
Bad Check Charge
Breaking and Entering, other property crimes
Drug Charges
DUI, other alcohol related offenses
Firearms Possession
Juvenile Offenses
Open Container
Shoplifting
Theft
These are just some of the most common misdemeanors for which Payne county residents seek legal representation.  A Wirth Law Office Stillwater misdemeanor defense attorney can help with most typical misdemeanor charges.
Misdemeanor Crimes: Jail, Probation and Fines
Misdemeanor offenses are punishable by imprisonment in the county jail not exceeding one year or by a fine not exceeding five hundred dollars, or both such fine and imprisonment. In certain situations, a convicted person may have to serve at least half of that time before probation could be implemented. A subsequent offense may result in felony charges, with longer terms of incarceration, higher fines, more onerous terms of probation and life-long marks on one's criminal record.
Don't just rely on internet searches to figure out how much the punishment could be for your misdemeanor arrest. You need to discuss the charge with an expert Stillwater misdemeanor defense attorney.
Confidential Consultation: Stillwater Misdemeanor Defense Attorney
A Wirth Law Office Stillwater misdemeanor defense attorney can bring solid experience and expertise to defend you in Stillwater and Payne County, Oklahoma. For a free consultation with a Stillwater misdemeanor defense attorney: (405) 673-1600.
You may also use the form above to contact us with your questions.